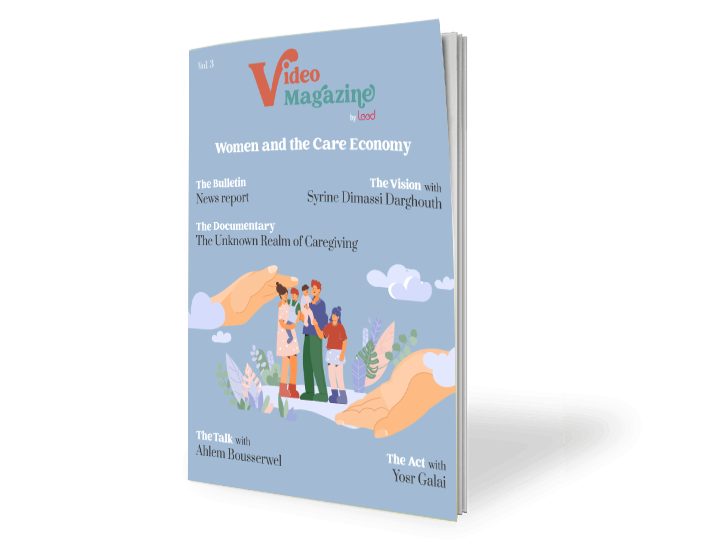 3
The Talk
Rethinking the Economy of Unpaid Care Work

Even though care work makes all other work possible, thereby contributing to economic growth; women perform most caregiving work, which is often unpaid, underpaid and undervalued. Due to the inordinate burden of caregiving, women and girls lag behind in earning a just-paid income, contributing to greater gender inequalities.
Biography
Ahlem Bousserwel is a Tunisian feminist, human rights activist, and gender consultant. She graduated from the Political School of the Council of Europe and holds an MBA in Political Science, specializing in International Relations. Currently, she holds the position of General Secretary of the Tunisian Association of Democratic Women (ATFD).

Prior to joining ATFD, she worked as a Program Coordinator for Men and Women for Gender Equality at UN Women Tunisia and was the Executive Director at Solidarity Laïque Tunisia working on sustainable development and youth and peace programs. Prior to that, she held the position of Society Expert at Democracy Reporting International-Tunisia working on governance, decentralization and constitutional bodies. In 2014, she was in Libya as Country Director of Gender Concerns International where she supported Libyan associations to develop recommendations on women's rights and present them to the Constitution Drafting Committee in December 2014. Ahlem started her professional career with the Tunis Center for Freedom.
Synopsis
In conversation with LEED Initiative Co-founder and CEO MENA, Nosra Ayari, Ahlem Bousserwel lays the facts about the reasons behind the vague definition of the care economy in Tunisia and shares her invaluable insights on investing in care leave and services as the pathway towards a more gender equal world of work.